AP Ration Card List Search Online | ONORC Scheme ePDS AP Ration Card Status (New/ Change/ Modified) | Andhra Pradesh Ration Card (Convert to NFSA) Free Ration | Link Aadhaar Card with Ration Card – One Nation One Ration Card | civilsupplies.ap.gov.in Ration Card Complaint/ Helpdesk Online
Department of Consumer Affairs, Food & Civil Supplies Government of Andhra Pradesh is the organization that looks after the distribution of Ration (including Rice, Dal, Kerosene, Sugar, Atta, Salt). The Ration Card is the official document required to get the benefit of NFSA (National Food Security Act) and avail free RATION for BPL, AAY, Annapurna, APL, SBPL category.
Andhra Pradesh is also part of the One Nation One Ration Card. Apply for Chip Based AP Ration Card. To be part of the ONORC Scheme, you need to Link Aadhar with Ration Card. This is compulsory before 30 Sept 2020.
In August 2020, the Govt. of India will be giving 2 months' Ration (Aug and Sept) in the Month of August. So, you will get two months ration in August.
AP Rice Card List 2021
The Rice Card Status portal by give you error 500 Error.Internal Server Error because you have click (open in new tab).
Open this link: https://epds2.ap.gov.in/epdsAP/epds/
Select Commodity >> Rice
Select Type >> Regular, Additional or other Types
Now >> Click on District
Srikakulam
Vizianagaram
Visakhapatnam
East Godavari
West Godavari
Krishna
Guntur
Prakasam
Sri Potti Sriramulu Nellore
Y.S.R(Kadapa)
Kurnool
Anantapur
Chittoor
Select the Mandal and follow the step.
By this, you will check the RICE CARD STATUS Online.
AP Ration Card List
Andhra Pradesh Govt has launched an online portal that is updated every day at 5PM for the new Ration Card List or Changes in Name/ or convert from Non-NFSA to NFSA category of Ration Card. From 1 June 2020, the Govt has launched new Scheme One Nation One Card Card, so that you can avail ration anywhere in India.
To Search your RATION CARD Status online. Follow the steps given below:-
STEP 1: Visit the official website
STEP 2: Click on "STATUS CHECK" and PULSE SURVEY SEARCH


STEP 3: You may get the error message
JBWEB000065: HTTP Status 404 – /epdsAP/login/PulseServeysearch_EPDS.jsp
In case, you need to provide the Aadhaar Card number. After that, you will get the Ration Card of your Linked to the Aadaar Card.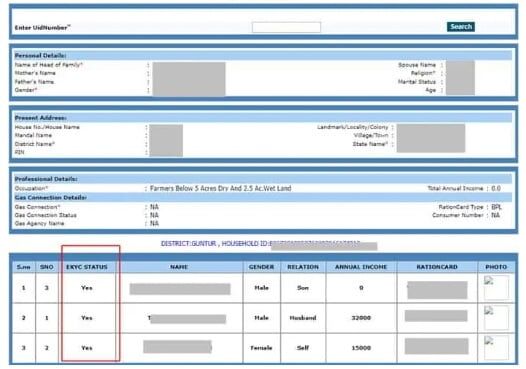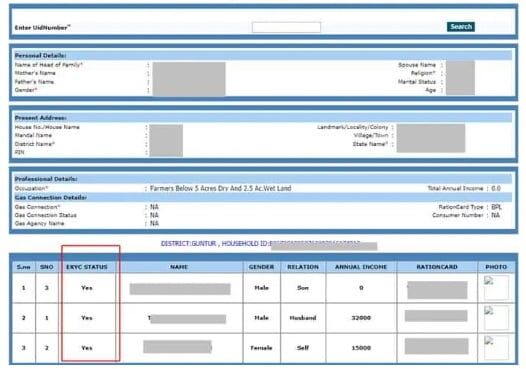 STEP 4: You can veify your details. In case there is any error, contact the customer care/ Grievance Cell.
Name of Ration
AP Ration Card List
State
Andhra Pradesh
Category
NFSA, Non-NFSA, Annapurna, AAP, AAY, State BPL etc.
Facility

New Ration Card
Changes in Ration Card Name, Category
Link Aadhaar Card
Check status of Ration Online
Grievance/ Helpdesk
AePDS AP – Aadhaar Ration Card

Website
https://epdsap.ap.gov.in/epdsAP/epds/
Apply for New Ration Card
If you want to remove your name from OLD RATION Card and apply for New Ration Card (with Wife, Family). The Andhra Pradesh Food and Civil Supplied Dept, has introduced ONLINE and Offline mode to apply for New Ration Card.
ONLINE – AP Ration Card Apply
STEP 1: Visit the https://epdsap.ap.gov.in/epdsAP/epds/ or Meeseva Portal of Andhra Pradesh Govt.
STEP 2: Click on "Register New Account"
STEP 3: Provide your Name, Mobile Number, Village, Tehsil, Block, Panchayat details
STEP 4: Now, Click on Services – Apply For New Ration Card
STEP 5: Upload your documents i.e. Aadhaar Card, Photo, Signature etc.
STEP 6: Submit the Form.
Note: After the verification of your application, you will get SMS on mobile number. Visit the Gram Panchayat to get Ration Card.
Offline – AP Ration Card Form
The 2nd way to apply for New Ration Card is Offline Mode. In this, the consumer has to download "AP New Ration Card Form" PDF from online or get it from Gram Panchayat Bhawan. Follow the steps:
STEP 1: Download/ Print or get the Andhra Pradesh New Ration Card from Panchayat Bhawan.
STEP 2: Fill the form correcrtly – including Category, Family Members, Relation, Aadhaar Number etc.
STEP 3: Affix the Photo
STEP 4: Submit the form to the Gram Panchayat for the verification. WIthin 7 days, your Ration Card will be verified by the Block Level Officer.
Note: You can visit the Gram Panchayat in 10 days to get the Physical/ Hard copy of Ration Card. Before that you should search/ check status of Ration Card Online.
AP Free Ration – Apply Online
Are you facing shortage of Food? or need free ration as PM Modi has announced Pradhan Mantri Garib Kalyan Package of 1.7 Lakh Crore at the time of COVID-19 Lockdown. In this scheme, consumer having the NBFA Card, AAY, AAP, BPL or State BPL cardholder will get Free Ration 3 Kg of Rice or Wheat per member and 2Kg Dal per Ration Card.
NOTE: Only the NFSA Card will get FREE RATION. In case, you want to get Fee Ration. Follow the steps:
You need to visit the MEESEVA or the Gram Panchayat.
Fill the NFSA Ration Card Form.
Enter your Ration Card Number (If existing) for New Ration you dont have to mention Ration Card Number
Get Signature of Sarpanch or Gram Sevak Adhikari.
Submit this form.
Link Aadhaar to Ration Card
Linking of Aadhaar Number to Ration Card is mandatory step to get the benefit of Free Ration or other Govt. Scheme. From 1 June 2020, Govt has started the One Nation One Ration Card scheme, to avail the benefit you need to link/ seed Aadhaar with Ration Card.
Visit the official portal of AP Food and Civil Supplies Portal or MeeSeva Site.
Login to your account.
Select Ration Card Linking.
Enter your Aadhaar Card Number and Click on LINK.
Your will get the OTP on the Mobile Number Linked to the Aadhaar Number.
After verification of OTP, your Aadhaar will be linked to the Ration Card.
Note: This is only ONE TIME process only.
Price of Ration – AP Ration Price List 2020
Here is the Price List as per the Govt. of Andra Pradesh Consumer Affairs. Check the latest Price for NFSA, AAY, White Card, AAY Card for the RICE, DAAL, KEROSENE, SALT etc.
| | | | |
| --- | --- | --- | --- |
| S.No | Commodity | Scale Of Distribution Under PDS Per Month | End ConsumerPrice PerKg (in Rs.) |
| 1 | Rice to Priority / White Cards | 5 Kgs per unit in the ration card | 1.00 |
| 2 | Rice to AAY Cards | 35 kgs per cards | 1.00 |
| 3 | Rice to Annapurna Cards | 10 kgs per card | Free of cost |
| 4 | Sugar | 1 kg per AAY card | 13.50 |
| | | 1 /2 kg per ANP & WAP / PHH card | 10.00 (1/2 kg) |
| 5 | Wheat Atta | 1 kg per BPL card | 16.50 |
| 6 | Red Gram Dal | 2 kgs per BPL card | 40.00 |
| 7 | Ragi | up to 3 kgs per card(in lieu of Rice) | 1.00 |
| 8 | Jowar | up to 2 kgs per card(in lieu of Rice) | 1.00 |
| 9 | D.F.Salt | 1 kg | 12.00 |
AP Ration Card Download Duplicate, Add new Member or Change Name
Do you want to add WIFE, SON or DAUGHTER in your RATION CARD or Want to Print Duplicate Ration Card request? Adding Member/ Change in Name, Mobile Number in the existing Ration Card has to follow the instruction provided by the Govt.
Login with USERNAME and PASSWORD
Click on RATION CARD – Services
ADD MEMBER/ CHANGE NAME
Upload the document of family member.
In case, you want to add WIFE (Upload Marriage Certificate), In case you want to Add SON/ DAUGHTER (Upload Birth Certificate).
After verification, you will get SMS on your mobile number.
To Print Ration Card Online >> Just visit the MeeSeva Portal or https://epdsap.ap.gov.in/epdsAP/epds/ and Enter your RATION CARD number. Your will be able to download/ PRINT PDF of Ration Card.
AP Ration Card Complaint/ Helpdesk
Contact the Consumer Helpline Number for the AP Ration Card Complaint. You can contact Toll Free Number 1967 or Email to the MeeSeva, Food Civil Dept of Andhra Pradesh to get Support for Ration Card related Help.
FAQ – AP Ration Card List 2020
✅ Can I apply for New Ration Card Online?
Yes, you can apply for New Ration card Online at the Andra Pradesh MeeSeva Portal. Create your account and avail the Ration Card Service.
✅ What is last date to link Aadhaar to Ration Card?
The last date to link Ration Card to Aadhaar Card Number is 30 September 2020.
✅ Which is the official Ration Card Portal of Andhra Pradesh
You can visit https://epdsap.ap.gov.in/epdsAP/epds to get complete information of your RATION that you are entitled for. History of old Ration on your CARD.