प्रधानमंत्री ऑप्टिकल फाइबर नेटवर्क योजना 2020-21 Online Registration: PM Narendra Modi announced "FTTH Optical Fiber Network" (PMOFNY Yojana) Internet to every household in Villages/ Gram Panchayat. The Fiber to the Home (FTTH) will be done under the Bharat Net Yojana. The Optical Fiber to Village Yojana is launched today (21 September 2020) by Prime Minister Narendra Modi for the Bihar State. As per the Telecommunication Minister Ravi Sankar Parsad, within 6 months approx 45945 Villages will get the internet connection (FTTH) to their Home.
Ghar Tak Fiber – Har Ghar Internet is the Moto of Bharat Net and Fiber Internet Scheme.
Key Points of Optical Fiber Network Yojana:-
FTTH to every village in India by 2022

Launched in Bihar and by March 2021 – Every Panchayat (Village) will get connected through BharatNet Optical Fiber Network.

PM Modi Announced this scheme on 15 August 2020

Total 6 Lakh Gram Panchayat 15 Aug

5 FTTH Points (Asha Kendra, CSC, Govt School, Public Place etc.)

Free Wifi Points in Villages

640 Crores for Bihar Fiber Internet Project.

1-year free internet to Gram Panchayat (5 Gramin Agency and 5 Sarkari Agencies)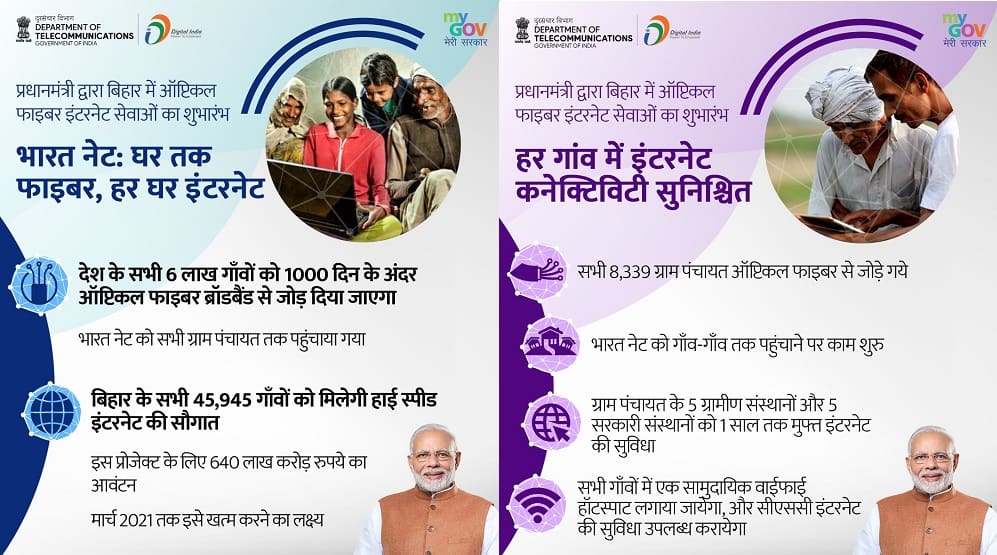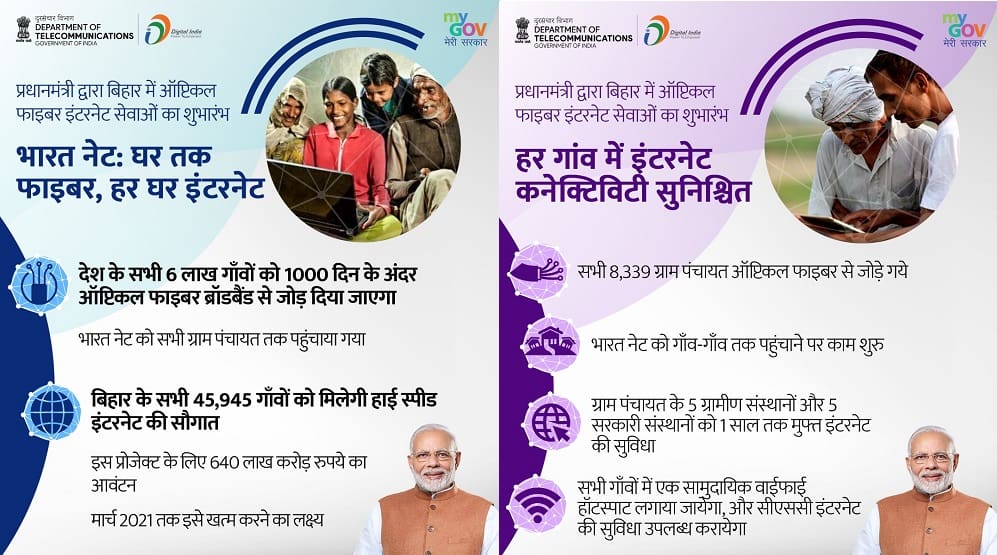 PM Optical Fiber Network Yojana (PMOFNY) is launched via Video Conference along with the 9 other Road, National Highways (Yojana) Righ Road (Patna) today. Under this Yojana, Every village will be connected under the Fiber Grid (Mala).
Initially, the Scheme is free of cost and CSC (Common Service Centers) will get a commission for providing space for FTTH Devices/ Battery and Fiber Modem, ONU Device, Machine, fiber optic fusion splice etc.
Registration/ Online Form to Apply for new connection under the PM Optical Fiber Network Yojana will be available on the official website of NIC. Please check DOT Portal.
Note: Jio Fiber may also collaborate with Govt to provide their Fiber Network on Lease. The Reliance Jio has the largest & built on the latest technology & devices- Compatible with 5G network.
ऑनलाइन मार्केट से शहरों की तरह जुड़ेंगे गांव भी, 1000 दिन के अंदर गांव-गांव तक पहुंचेगा तेज इंटरनेट। #NayeBiharKaNirmaan @rsprasad @SanjayDhotreMP @DoT_India @_DigitalIndia @PMOIndia @PIB_India @MIB_India @NitishKumar pic.twitter.com/eB7UKnCyYD

— MyGovIndia (@mygovindia) September 21, 2020
PM Optical Fiber Network Yojana
Article About
Pradhan Mantri (PM) Optical Fiber Network Yojana
State
All Over India
Initially starting from Bihar State
Benefit
High-Speed Internet Connection to Villages/ Home
Connection Type
Fiber Broadband (FTTH), Wifi Hotspot
Cost or FTTH Plans
As per the Govt advisory & FTTH Plans
Devices Required
ONT (Optical Network Termination) and Router
How to Apply
Online Registration
Jobs in PM Modi Optical Fiber Network Yojana
Yes, Available (Apply using Govt Portal)
Completion of Yojana
Till 2022 (PAN India)
Till March 2021 (In Bihar)
Bihar Fiber Network Yojana
The vision of connecting Villages with 5G and High-Speed Internet, the Govt. of India has launched PM Optical Fiber Network Yojana on 21 Sept 2020. This scheme is for all the Villages, Cities, Panchayats, Blocks, Tehsil, etc. The mission of this scheme is to give facilities to villagers, modern technology so that they can get the benefit of other schemes which are ONLINE. i.e. eNAM (Online eMandi), Banking, Post Office, News & Media etc.
Bihar – Total 45945 Villages will get an internet connection.

Sanchar Vibhag will look after this

CSC will implement in the Panchayat level

6 Months completion time

5 FTTH Kendra.
Registration Form – How to Apply for Free Intenet
To get new FTTH connection under the PM Optical Fiber Network Yojana. You need to follow the steps
Visit the official website of DOT (Dept of Telecommunication).
Choose Bihar State
Click on "New Connection"
Fill complete details: Name, Mobile Number, Email ID, Address – including City, District, Village, Block and PIN Code.
These details will be forwarded to the Concerned CSC and the team from CSC will contact you.
Note: You don't have to pay the Money. (Please check Govt Orders.)
FAQ – PM Optical Fiber Network Yojana
✅What is PM Optical Fiber Network Yojana?
Prime Minister Narendra Modi launched this scheme to connect Villages with High-Speed Internet.
✅When will PM Optical Fiber Yojana start in Uttar Pradesh?
For the UP State, CM Adhityanath has already asked DOT Department to plan and launch this yojana by May 2021.
✅ Fill Online Internet Connection.
You can apply for FTTH Internet connection by applying form at official website.
✅What are the Internet Plans?
The Internet Charges/ Plans are fixed by the Govt. of India, Sanchar Vibhag. So, you will get details soon.
✅ Who can apply for new connection?
Everyone in the Village are eligible to apply for new internet connection.