Aapda Vibhag Bihar Launched Indravajra App (.APK) Download Bihar UP Indravajra इंद्रवज App Download | Get Lightning (ठनका) Alert 1 Hour before Mobile App by Disaster Management Dept | Download Uttar Pradesh and Bihar Vajrapat (वज्रपात) Indravajra मोबाइल ऐप |
Every year, the monsoon along with the Rain, Thunderstorm in Bihar, Uttar Pradesh, MP and Jharkhand also brings Lightning (Vajrapat) also locally known by ठनका (Thanka). On 25 June 2020, the Lightning has taken life of 96 people in 21 District of Bihar. In Uttar Pradesh also, the Lightning has taken the life of least 24 people and 12 people were injured. The Disaster Management Department (Aapda Vibhag, Bihar) has developed Mobile App, that will ALERT users 45 minutes before the Lightning in a radius of 20 KM (Near you). It also gives push notification (ALERT) to the users.
Dept of DMD (Aapda Vibhag) & Qihou Solutions Private Limited, Bangaluru has developed "Indravajra Mobile App" to Alert users about the "ठनका/ वज्रपात" 45 minutes before it happens.

Recommend this Mobile App for Residents in Uttar Pradesh, Bihar, Jharkhand, Rajasthan, Haryana, Delhi and West Bengal.
Indravajra इंद्रवज Mobile App Download
राज्य के निवासियों को वज्रपात (ठनका) से बचाव हेतु की पूर्व चेतावनी देने के लिए आपदा प्रबंधन विभाग के द्वारा एक मोबाइल ऐप का निर्माण कराया गया है| इस मोबाइल ऐप का नाम इंद्रवज्र है| इसी गूगल प्ले स्टोर से स्मार्ट फोन पर आसानी से डाउनलोड किया जा सकता है| इस मोबाइल ऐप को डाउनलोड करने के उपरांत स्मार्टफोन यूजर के लगभग 20 किलोमीटर की परिधि में ठनका गिरने की स्थिति में उसे लगभग 40 से 45 मिनट पूर्व अलार्म टोन के साथ चेतावनी संदेश प्राप्त होगा| अनुरोध है कि ठनका वज्रपात से बचाव हेतु आज यह मोबाइल पर इंद्र वज्र मोबाइल ऐप डाउनलोड करें|
Name of App
Indravarjra इंद्रवज
Developer
Qihou Solutions Private Limited
Organization/ Authority
Bihar Disaster Management Dept.
Uses
Alert Notification for future Vajrapat (ठनका)
App Available
Android: Yes
iOS: No
Windows: No
Jio Phone: No
Download (.APK) App
Indravajra Mobile App
Download Indravajra Mobile App (Steps to Install)
Note: SarkariMama.com also recommends this App. The IndraVajra/ VajraPat Mobile App will alert you 45 minutes before it happens.
Follow steps to install/ download Bihar UP Indravajra इंद्रवज App.
STEP 1: Go to Play Store App and Search "Indravajra इंद्रवज".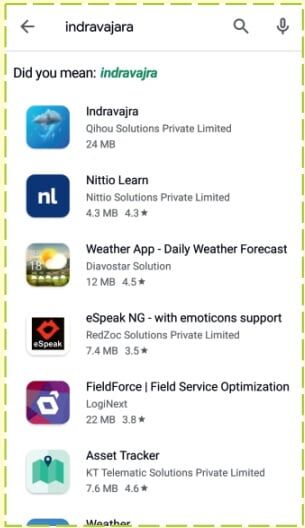 STEP 2: Click on "Indravajra App" and click on Install.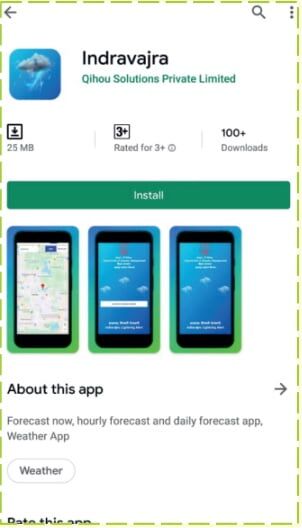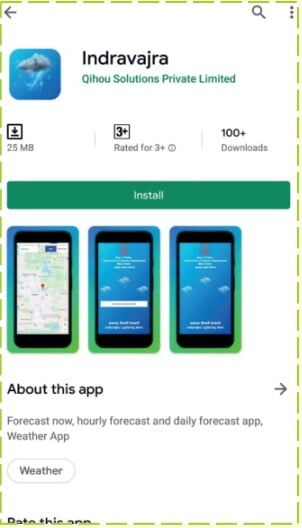 STEP 3: Now, Open IndraVajra Mobile App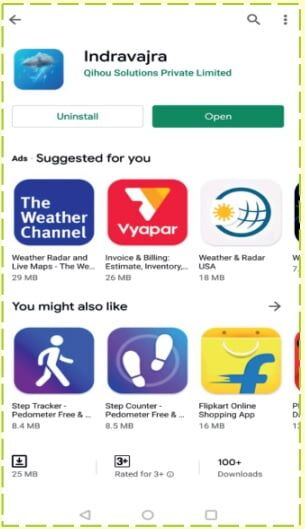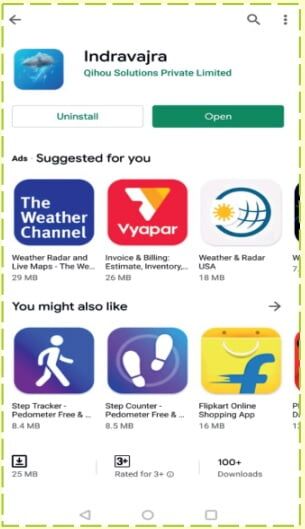 STEP 4: Click on "Login with Phone Number". You need to provide your mobile and verify using the 6 digit OTP Code via SMS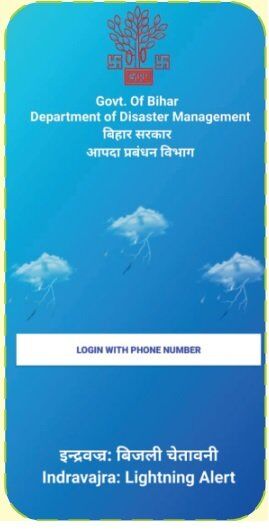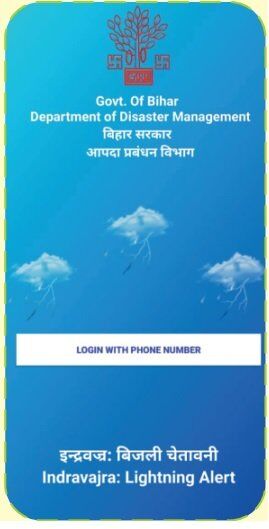 STEP 5: You need to give permission i.e. Location, Photos, Call, SMS etc.
STEP 6: Now, you can use the IndraVajra Mobile App.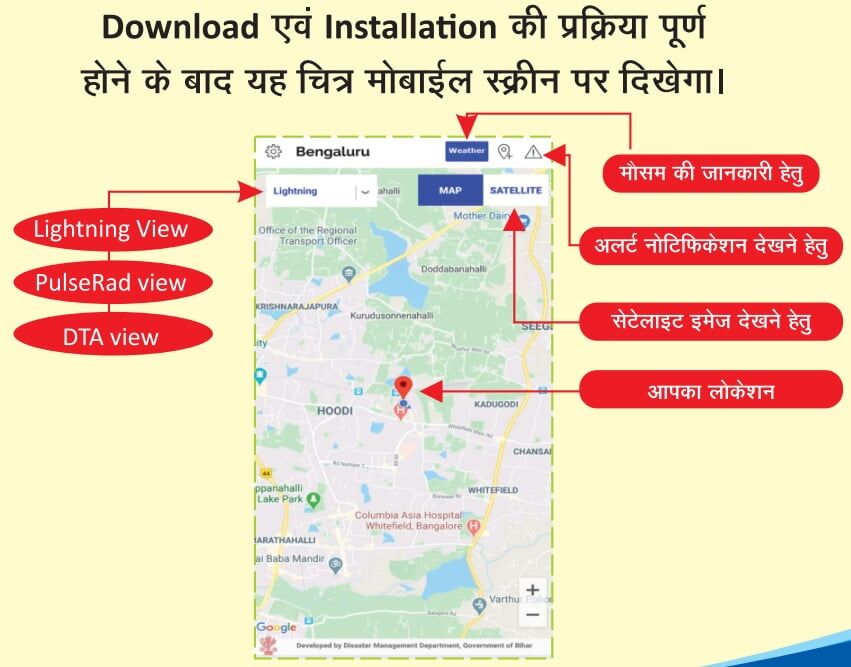 Cases on Death due to VajraPat
Dept. of Aapda Vibhag (Disaster Management) has issued a press release regarding the Death of People due to Lighting. Total 96 people has died in 22 districts. Below is the complete information.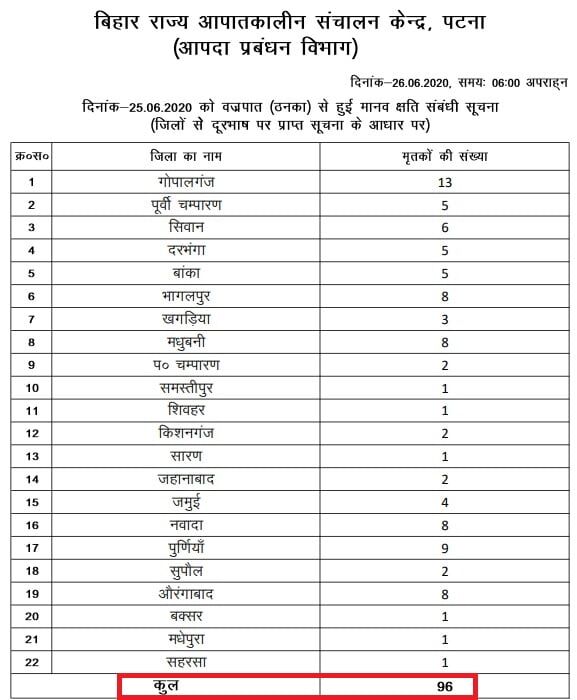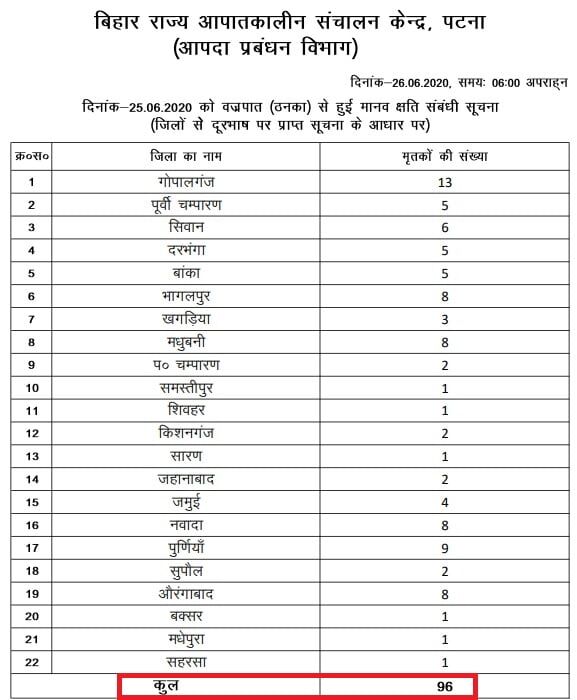 In Uttar Pradesh: Six in Prayagraj, three in Ambedkar Nagar, two in Barabanki, and one each in Kushinagar, Pratapgarh, Balrampur and Unnao district.